Lake Fun Labradors
HappyLabradors.com is selling Whimsical Labrador Retriever Artwork and Gifts for Labrador People!
Unique and cute Labrador Retriever Artwork featuring fun activities in the lake painted in 2013 by Naomi Ochiai. Yelow Labrador and Chocolate Labrador Dad and Son are enjoying fishing at the pier. Young two Yellow Labrador and Black Labrador are diving to chase a ball. A matured Black Labrador is taking a nap with a book in the boat. Two little Labrador puppies look like they have a plan!!!


How about Art Prints and Gifts with this design? Wonderful Gifts for Labrador Lovers!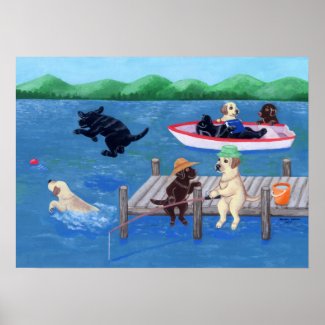 Lake Fun Labradors Art Prints
in various size optiong
Click the following image.
You will see various gift items for Labrador People!
Lake Fun Labradors Gifts