Hi everyone!
This is one of our most popular Dachshund Designs. Don't you think it's cute???
Adorable Red Smooth Haired Dachshund is walking proudly with a red rose in his/her mouth. Is it a gift for his/her Mom??? What a sweet Doxie!! Cute Red Smooth Haired Doxie cartoon design for Doxie Fans!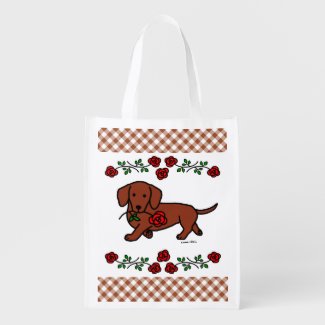 Red Smooth Dachshund and Rose Grocery Bags by HappyDachshundArt
Don't forget to check out Coupon Page and don't miss a chance to save!
[zStoreBasic contributorHandle="happylabradors" productLineId="196067479087482082″ gridCellSize='large' showHowMany='12']