Hi!
This is my new Black Labrador Retriever Cartoon Products!  Toiletry Dispensers!  Nice for kids or just for adults who adore Black Labradors!
These cute Black Labradors give you delightful feelings of Summer, fun of Beach Party and Pool Party everyday!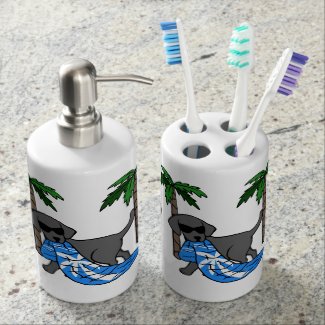 Cool Black Labradors Bath Accessory Set by HappyLabradors
 Product Details:
Style:
Toothbrush Holder and Soap Dispenser Set
Dimensions: 4.7"l x 3" outside diameter (toothbrush holder), 6.95"l x 3" outside diameter (soap dispenser).
Printed in full color, photographic quality.
Toothbrush holder and soap dispenser base made with ceramic.
Soap dispenser top made with stainless steel.
Toothbrush holder can fit up to four toothbrushes.
Shipped as a 2-piece set, cannot be separated. Designs identical on both pieces.
Hope you like this post!
Thank you for your visit. 🙂